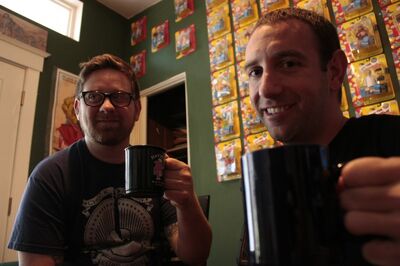 For Buddy Schaub And Jake Crown, starting Coffee Project came together naturally. Hailing from Gainesville, FL, Buddy And Jake started writing songs on acoustic guitars while hanging out on the back porch when they had time (Buddy plays full time in Less Than Jake, and Jake is a full time student who also plays in Rehasher, and Hometeam).
What started as a way to just exchange song ideas in the afternoon progressed into Buddy's home studio resulting in 10 demoed ideas ranging from full band punk rock to acoustic songs with an occasional trombone melody thrown in. After doing this on and off for over a year the duo decided it would be fun to play some shows around Gainesville. Realizing the only way to do this as a two piece was to stick to the acoustic songs, they found that a couple of acoustic guitars and a trombone was all they really needed and have now settled on this format. Coffee Project's songs are honest and loyal to the guys who wrote them. Break ups, confusion, hope, stress, broken hearts, and rebuilding fueled enough songs for a 10 Inch record For Paper + Plastick Records that was released January 2009, titled "Easy Does It" and a 2 song digital EP released in June 2009 called "Pickle."
Look for some upbeat catchy melodies and lyrics that hit home to anyone that has ever lived in a college town. Throw in a few fiddle parts contributed by Jon Gaunt (who played on Chuck Ragan's solo project) and some tasty harmonies from Heather Tabor Of the Teen Idols and Bullets To Broadway. The new full-length, "Moved On" came out in Spring 2010!
Community content is available under
CC-BY-SA
unless otherwise noted.